5 Day Intuitive Painting Workshop – Feeding Your Heart's Desire to Live Fully Expressed! It feels so good to experience freedom, permission, and to create.
October 21st – October 25th
Facebook | Instagram | Pin | LinkedIn
 
Intuitive Painting is available virtually! We come to you via Zoom. 
You will learn and experience how to listen to inspiration, remove limiting blocks and connect to your limitless, natural, creative expression. Nothing feels better.
When you understand the nature of creativity and its principles, you begin to relax and trust. You will learn these principles during this workshop.
This workshop is designed for you to cultivate a deep, robust relationship between you and your innate creative process. You will be supported in seeing what supports you and what separates you from this free flowing process and living authentically. You will be surprised at what gifts come to you when you allow yourself to live fully expressed. During the workshop you can relax, explore, and trust the wisdom that leads you as you create.
Explore in a critique-free studio. Allow spontaneous expression to flow from you, igniting your intuition with a desire to play. As you to dip into the 22+ delicious colors you will be surprised how layers of mental restrictions that contribute to your day-to-day life melt away. This new experience of Freedom is your partner—both in your painting and as you navigate through every aspect of your life.
No artistic training needed. Are you a blocked Artist looking to reconnect? This is the place for you.
There are many accommodation choices in the immediate area. Please call with any questions, 832-545-8488.
Intuitive Painting is available virtually! It's not a problem if you don't live near the studio. We come to you via Zoom.
"Thank you, Cherie, for making it possible to attend your workshops virtually. I use my phone! I love the experience of painting with those in the studio and really feel part of the group. I'm amazed what a rich experience it is. But I do miss the snacks!". F.B.
This is your call to create without pressure to produce and with an amazing community. Cherie
Ray has studied, facilitated, and trained facilitators with Michele Cassou for almost 20 years. Cherie teaches and supports the pure integrity of Michele's work.
All workshops with Cherie fulfilled prerequisites for MIchele Cassou's Teacher Training.
No experience required and no critiques are permitted, never-ever.
All materials are provided.
Where: Houston Heights Studio (77008). Can't be in Houston? Participate virtually. It's so easy! Ask for details. Email Cherie@trueyoucreativity.com
When: Wednesday-Sunday, October 21-25, 2020
Time:  Wednesday-Saturday, 10am-6pm
Sunday, 10am-2pm
Cost:    $535 Early Bird Pricing until September 21, 2020
$575 After September 21, 2020.
All materials are provided.
Refunds are available 10 days prior to the workshop minus a $35 administration fee. Cancellations with at least 24 hours notice may use tuition towards other True You offerings.
Registration deadline: Workshop registration closes on Monday, October 19, 2020
Facilitator:      Cherie Ray, MLA, Coach.Constultant
All events can be attended 'VIRTUALLY'.  It's so easy.  For more information email Cherie or cherie@cherieray.com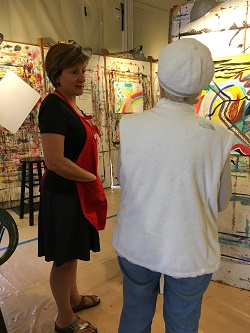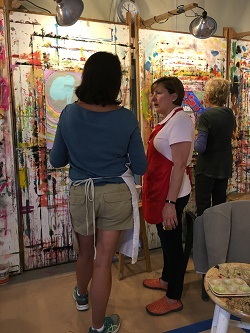 Cherie Ray is gifted, grounded, heart-centered coach dedicated to creative success. She can get you in touch with your aliveness and help you move in the direction of your dreams.
– Alan Cohen, Lecturer, Teacher, and Author
Cherie Ray is a unique and inspired leader into the process of exploration of the self through painting. She aims for truth and freedom of expression, holding the space for people to be who they truly are and realize their joyful potential in their creations.
– Michele Cassou, Point Zero Teacher and Author
Though I've focused on my spiritual path for years, it was through my work with Cherie Ray that I was able to round that final corner into unconditional life and peace. Cherie's steady, shining positivity and creative approach to her coaching were just the mulch I needed to blossom in a whole new way.
– P.V.
I am not exaggerating when I say you changed my life … that afternoon was an awakening for me and within a short period of time a transformation happened. Now I feel like a butterfly emerging from a cocoon!
– K.O.
Thanks, Cherie. Your support for "the creative artist" in each of us was a step on my journey to making this dream come true. I still remember walking the path past the prayer flags to your amazing "True You Creativity" studio…and finding out that, yes, a "DOT" could be art. I had so much fun "playing" in the safe space you create. Keep doing what you do–following your dream–and facilitating and inspiring so many others.
– B.A.