Creating Your Connection to Limitless Creativity 
5 Day Intuitive Painting Workshop
Wednesday, July 24 to Sunday, July 28, 2019
Weds-Sat: 10am-6pm 
Sun: 10am-2pm
Early-bird Pricing: $495, if registered by Monday, June 24, 2019
$535 after June 24, 2019
Houston Heights Location. All materials are provided.
Experience your natural ability to create.
You will learn and experience how to receive, remove limiting blocks and connect to your creative expression.
When you understand the nature of creativity and its principles, you begin to relax and trust. You will learn these principles during this workshop.
This workshop is designed for you to cultivate a deep, robust relationship between you and your innate creative process. You will be supported in seeing what supports you and what separates you from this free flowing process. You will be surprised at what gifts come to you when you allow yourself to live fully expressed. During the workshop you can relax, explore, and trust the wisdom that leads you as you create.
Explore in a critique-free studio. Allow spontaneous expression to flow from you, igniting your intuition with a desire to play. As you to dip into the 22+ delicious colors you will be surprised how layers of mental restrictions that contribute to your day-to-day life melt away. This new experience of Freedom is your partner—both in your painting and as you navigate through every aspect of your life.
No artistic training needed. Are you a blocked Artist looking to reconnect? This is the place for you.
There are many accommodation choices in the immediate area. Please call with any questions.
Intuitive Painting is available virtually! It's not a problem if you don't live near the studio. We come to you via Zoom or Skype.
This is your call to create without pressure to produce and with an amazing community.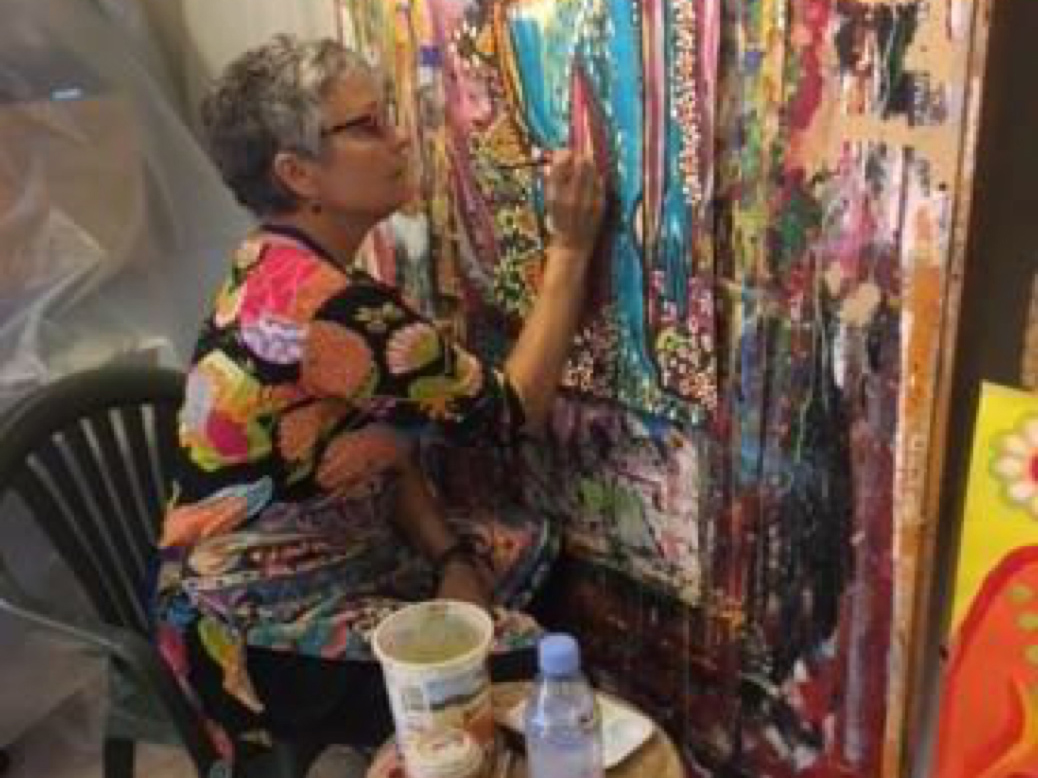 All workshops with Cherie fulfill prerequisites for Michele Cassou's Teacher Training.
No experience required and no critiques are permitted, never-ever.
Address and directions to the Studio will be emailed to you following your registration. Can't be in Houston? Participate virtually. It's so easy! Ask for details. Email cherie@trueyoucreativity.com.
Refunds are available 10 days prior to the workshop minus a $35 administration fee.
Cancellations with at least 24 hours notice may use tuition towards other True You offerings. 
Registration deadline: Workshop registration closes on Monday, July 22, 2019
Your payment through PayPal is your registration:
My initial reservation about how well a virtual class would work was completely resolved the moment it began! I felt part of the group, included and able to interact with everyone there. The attention I received from Cherie was wonderful and very much the same as if I were in her presence in her studio. Thank you for making this possible, Cherie!
~T.N.
Thank you, Cherie, for making it possible to attend your workshops virtually. I use my phone! I love the experience of painting with those in the studio and really feel part of the group. I'm amazed what a rich experience it is. But I do miss the snacks!
~F.B.