One Day Intuitive Painting Retreat:
Authenticity! Discover who you are, under all those rules.
May 2nd, Saturday, 10am-5pm CST
Facebook | Instagram | Pin | LinkedIn
We live under so many rules of right and wrong, good and bad, can and can't, should and shouldn't. We have so many added on layers that we lose touch with what's authentic and unique about ourselves.
In this coaching and Intuitive Painting workshop you will gain awareness on how limiting we live in a limitless world.  You will gain understanding about creative blocks, how creativity operates, and experience the gifts creating can bring into your life.  You will also gain understanding about what stops you from exploring your creativity freely.
Explore in a critique free, comment free studio where your individual creative process will be nurtured. No experience is necessary. In fact, no experience is a plus!
With this fresh understanding, you will experience how living fully expressed brings aliveness into your life. You will take this understanding with you as you give yourself permission to explore the creative endeavors you're drawn to explore. It feels great to create!
Intuitive Painting is available virtually! It's not a problem if you don't live near the studio. We come to you via Zoom on a large screen. You will be painting alongside the painters in the studio.
Cherie Ray has studied, facilitated, and trained facilitators with Michele Cassou for almost 20 years. Cherie teaches and supports the pure integrity of Michele's work.
Intuitive Painting is available virtually! We come to you via Zoom.
No experience necessary. No comments or critiques are permitted.
All materials are provided.
Where:
Location: the Houston Heights (77008)
Address and directions to the Studio will be emailed to you following your registration. Can't be in Houston? Participate virtually. It's so easy! Ask for details. Email Cherie@trueyoucreativity.com
When:
May 2nd
Time:
10am-5pm
Cost:
Tuition: $150
All materials are provided.
Registration deadline:
With 24 hours notice, cancellations may be applied to other classes or workshops.
Facilitator:
Cherie Ray, MLA, Consultant & Coach, Supporting clients in living to their true potential with ease and confidence.
All events can be attended 'VIRTUALLY'.  It's so easy.  For more information email Cherie at cherie@trueyoucreativity.com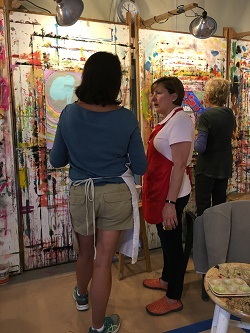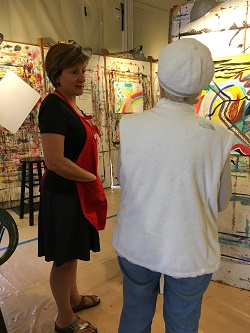 Cherie Ray is gifted, grounded, heart-centered coach dedicated to creative success. She can get you in touch with your aliveness and help you move in the direction of your dreams.
– Alan Cohen, Lecturer, Teacher, and Author
Cherie Ray is a unique and inspired leader into the process of exploration of the self through painting. She aims for truth and freedom of expression, holding the space for people to be who they truly are and realize their joyful potential in their creations.
– Michele Cassou, Point Zero Teacher and Author
Though I've focused on my spiritual path for years, it was through my work with Cherie Ray that I was able to round that final corner into unconditional life and peace. Cherie's steady, shining positivity and creative approach to her coaching were just the mulch I needed to blossom in a whole new way.
– P.V.
I am not exaggerating when I say you changed my life … that afternoon was an awakening for me and within a short period of time a transformation happened. Now I feel like a butterfly emerging from a cocoon!
– K.O.
Thanks, Cherie. Your support for "the creative artist" in each of us was a step on my journey to making this dream come true. I still remember walking the path past the prayer flags to your amazing "True You Creativity" studio…and finding out that, yes, a "DOT" could be art. I had so much fun "playing" in the safe space you create. Keep doing what you do–following your dream–and facilitating and inspiring so many others.
– B.A.