What Are You Missing? Listening for Connection, Efficiency, and Success
February 17 @ 12:00 pm

-

1:30 pm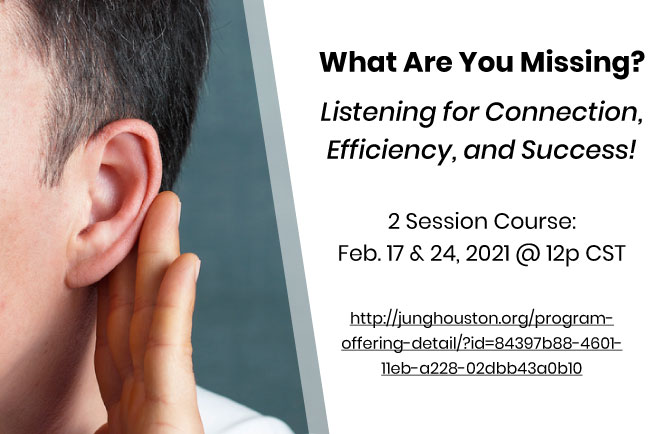 The Jung Center provides this link for registration for classes they offer. please use this link to invited registration:
http://junghouston.org/program-offering-detail/?id=84397b88-4601-11eb-a228-02dbb43a0b10
Course description:
What Are You Missing?
Listening for Connection, Efficiency, and Success
Cherie Ray
February 17 & 24, 2020
This course meets for 2 sessions.
Noon-1:30pm CST, 1-2:30pm EST, 10-11:30am PST
Do you find yourself having the same conversation – with a parent, spouse, or co-worker – again and again? The problem could be a failure to listen, since development and change can only take place when listening happens. Efficiency, connection, and a sense of ease-in-collaboration are all proven benefits of improving how we listen in our conversations. We will meet twice, taking a week to apply the skills we learn, and bringing our questions back for week two. Bring your team and learn together!
Limit of 12 participants for maximum impact
Cherie Ray, MLA, is a coach and consultant to business leaders, teams, and individuals who are successful but feeling disillusioned, disconnected, and frustrated. Her clients have found they can enjoy the success they've worked so hard for AND feel richly connected to life and their creative potential. To know more about her work visit www.cherieray.com.