Intuitive Painting Facilitator Development Training – Level 1
Friday, May 29th- Sunday August 16th
Facebook | Instagram | Pin | LinkedIn

Intuitive Painting is available virtually! We come to you via Zoom. 
Intuitive Painting is the ultimate exploration of freedom and permission. It is the gift that keeps on giving throughout your life. In this Facilitator Development Training you will develop yourself, your intuitive skills, and your understanding of the operating principles behind creativity. You will also learn how to best support others in learning how to live fully expressed through the practice of Intuitive Painting.
Training includes:
Foundation of Intuitive Painting
Operating Principles of Creativity
Facilitation
Studio Operations
This 3+ month training is dual in nature. This training enriches the facilitators relationship to 100% creativity while building a strong foundation to understand the principles behind creativity and to facilitate Intuitive Painting in its purest form, in the integrity of the process developed by Michele Cassou.
Cherie Ray is the Senior Training Facilitator for this process. This training is accredited and endorsed by Michele Cassou.
This training may be attended in-person or virtually.
Limited to 10 participants.
Begins on Friday, May 29, 2020
For complete details visit: www.trueyoucreativity.com or call 832.545.8488, email: Cherie@trueyoucreativity.com
What's included in this amazing training opportunity:
Introductory Weekend:
This weekend's focus is establishing a strong foundation in the painting process via painting and lessons:
May 29, Friday, (6-8pm CST)
May 30, Saturday, (10am-5pm)
May 31, Sunday, (10am-5pm)
Painting and Facilitation:
June 21 – 26, Sunday-Friday, (10am-5pm) Painting and Facilitation
July 11, Saturday, Sunday, July 12, (10am-5pm) Painting and Observation (virtual attendance only or in person attendance if space is available)
July 29, Wednesday-August 2, Sunday, (10am-6pm, Wednesday-Saturday, 10am-2pm, Sunday)
Closing Weekend:
August 15, Saturday, (10am-6pm)
August 16, Sunday, (10am-3pm)
Lessons and Q&A (via Zoom video conferencing) 6-8pm CST
June 4, 18, July 2, 16, August 6, 2020
Bonus: Continued support will be offered via 3 (1 per month) Zoom Q&A web conferencing after completion of the training.
2nd Bonus: Attendance in all One Day Painting Retreats at ½ price during the training period.
This training is experiential and lesson based. Those participating in this training must commit to a regular painting practice during this three month+ period. Painting is required in this training because a facilitator cannot support others where they have not explored in their own process. Also, since this process is intuitively based, a strong relationship to the process and their intuition is
essential.
Cherie Ray has studied Point Zero painting with Michele Cassou for almost 20 years. She trains facilitators with Michele as well as facilitating at Mabel Dodge Luhan House in Taos, New Mexico, Esalen, and her studio in Houston, Texas.
This training is limited to 10 participants to ensure the support and attention needed to gain a strong foundation in understanding creativity, intuitive painting, and facilitation.
The training can be done in person, virtually, or a combination of both. There are many accommodations in the studio area, Houston, Texas, 77008.
To apply contact Cherie at cherie@cherieray.com or call 832.545.8488 to address
any questions you have.
Tuition: $2865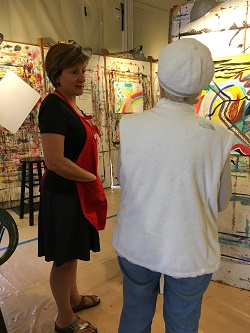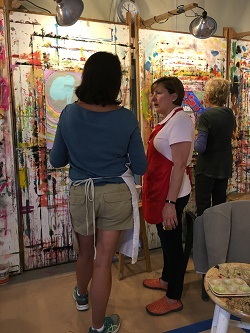 Cherie Ray is gifted, grounded, heart-centered coach dedicated to creative success. She can get you in touch with your aliveness and help you move in the direction of your dreams.
– Alan Cohen, Lecturer, Teacher, and Author
Cherie Ray is a unique and inspired leader into the process of exploration of the self through painting. She aims for truth and freedom of expression, holding the space for people to be who they truly are and realize their joyful potential in their creations.
– Michele Cassou, Point Zero Teacher and Author
Though I've focused on my spiritual path for years, it was through my work with Cherie Ray that I was able to round that final corner into unconditional life and peace. Cherie's steady, shining positivity and creative approach to her coaching were just the mulch I needed to blossom in a whole new way.
– P.V.
I am not exaggerating when I say you changed my life … that afternoon was an awakening for me and within a short period of time a transformation happened. Now I feel like a butterfly emerging from a cocoon!
– K.O.
Thanks, Cherie. Your support for "the creative artist" in each of us was a step on my journey to making this dream come true. I still remember walking the path past the prayer flags to your amazing "True You Creativity" studio…and finding out that, yes, a "DOT" could be art. I had so much fun "playing" in the safe space you create. Keep doing what you do–following your dream–and facilitating and inspiring so many others.
– B.A.