Atelier Day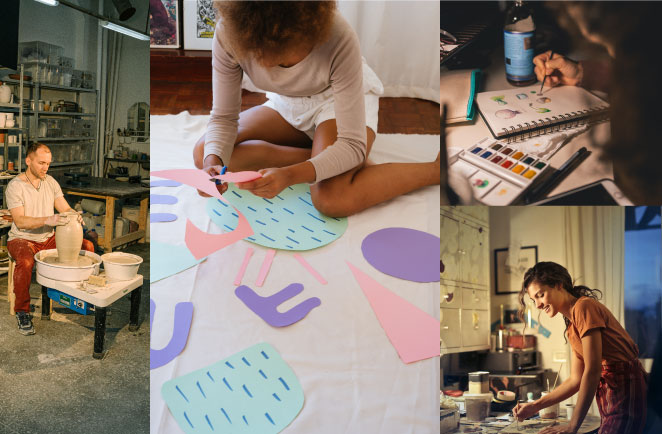 Atelier Day
What is an atelier? Merriam-Webster defines an atelier (a-tᵊl-ˈyā) as a room where an artist works.
The gift of this Atelier Day is to be a part of a bubbling creative studio environment with other creators while you gain universal principals of how creativity works and how it works through you.
Spend this day taking a deep dive into what you love to do. Whatever it is! Do you love to write, weld, paint, collage, compose, cook? You name it. We will meet several times through out the day as a group then you will put focused time on your projects. There will be times of group learning and times of silent exploration. You will be prompted and supported, as well, during the workshop to explore more and with more freedom. The energy of the group will energize and move your inspiration.
You will walk away with a renewed freedom and energy for your work, a deeper understanding of how creativity works, and some rich time spent with what you love doing! You will see for yourself that there may be limitations to materials but there are no limitations on you.
This is a critique free studio space for creative expression and exploration. Let everyone know you will be taking this day for yourself!
Virtual Attendance Only via Zoom
Tuition: $150
Following your registration complete workshop and Zoom information will be sent to you.
When: Sunday, December 27th, 2020
Time: 10am-5pm CST, 8am-3pm PST, 11am-6pm EST
(We will break for 1.5 hours for other nourishment.)
This workshop will be facilitated by Cherie Ray. Cherie has explored the limitless nature of creativity for 20+years. Her specialization is taking the universal truths of creativity into your everyday life. Questions: Email Cherie at cherie@cherieray.com
"Your class and guidance opened up a deeper level of painting for me that I hadn't experienced. Thank you." J.W.