Teacher Development Training 2021
January 29, 2021

-

June 8, 2021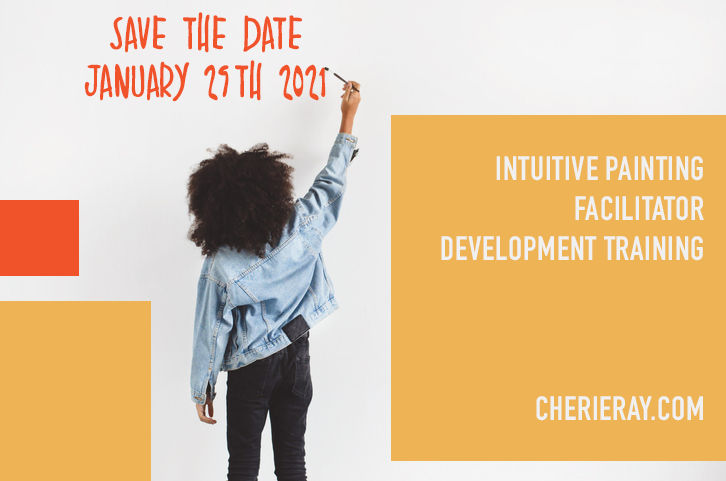 Intuitive Painting Facilitator Development Training Intuitive Painting is the ultimate exploration of freedom and permission. It is the gift that keeps on giving throughout your life. In this Facilitator Development Training you will develop yourself, your intuitive skills, and your understanding of the operating principles behind creativity. You will also learn how to best support others in learning how to live fully expressed through the practice of Intuitive Painting. Training includes: Foundation of Intuitive Painting Operating Principles of Creativity Facilitation Studio Operations This 6-month training is dual in nature. This training enriches the facilitators relationship to 100% creativity while building a strong foundation to understand the principles behind creativity and to facilitate Intuitive Painting in its purest form, in the integrity of the process developed by Michele Cassou. This training will be offered virtually via Zoom video conferencing.
Introductory Weekend:
This weekend's focus is establishing a strong foundation in the painting process via painting and lessons:
January 29, 2021 Friday, (6-8pm CST)
January 30th, Saturday, (10am-5pm)
January 31st, Sunday, (10am-5pm)
Bonus Workshop to get your process moving!
February 3-7, 2021, Wednesday-Saturday, (10am-5pm) Sunday, (10am-2pm CST)
Participation in this workshop is optional. This workshop is made available to you to deepen your process and prepare for the next piece of this training.
Painting and Facilitation:
February 24-28, 2021, Wednesday-Sunday, (10am-5pm CST)
Painting and Observation
March 20 & 21, 2021, Saturday, Sunday, (10am-5pm CDT)
April 14-18,2021, Wednesday-Sunday, (Wednesday-Saturday, 10am-5pm, Sunday, 10am-2pm CDT)
May 7, 2021, Friday, (5-7pm CDT)
May 8, Saturday, (10am-5pm CDT)
May 9, Sunday, (10am-3pm CDT)
Lessons, Assignments, and Q&A:
Thursdays, 6-8pm CDT
February 11
March 11
March 25
April 22
May 20
June 3
July 8
Collaborative Painting: Weekly Schedule 2 hours of painting with a fellow facilitator. This training is experiential, and lesson based. Those participating in this training must commit to a regular painting practice during this six-month period. Painting is required in this training because a facilitator cannot support others where they have not explored in their own process. Also, since this process is intuitively based, a strong relationship to the process and their intuition is essential. Cherie Ray has studied Point Zero painting with Michele Cassou for almost 20 years. She trains facilitators with Michele as well as facilitating at Mabel Dodge Luhan House in Taos, New Mexico, Esalen, and her studio in Houston, Texas. This training is limited to 12 participants to ensure the support and attention needed to gain a strong foundation in understanding creativity, intuitive painting, and facilitation.
What is being said by those who've taken this training:
"I would want someone to know that this is a deep dive into process painting a la Michele Cassou- more like a Master class and worth every minute whether or not he/she ever teaches – gaining a deeper understanding of process and self is invaluable. I appreciate the time to bond with my classmates for this extended period of time and know that I have support available and someone to paint with from now on.  The opportunities to have in depth discussion is so helpful in learning how others view this process." T.N.
"I'd recommend this course to anyone looking to teach intuitive painting and/or deepen their own process. Cherie is a passionate, caring teacher and has put together a comprehensive program to pass on Michele Cassou's work. We had a lot of painting time together and opportunities to observe and practice facilitating. Along the way we developed a loving, supportive community that has gone beyond this class. My life is richer for it.  Somehow you make it simpler or more understandable, with lots more permission and that's a great example to see."  F.B.
"This course has connected me to freedom in my creating which has transferred to a fresh sense of freedom in my life."
"I loved the opportunity to do this course vitually. I found I could focus so much better at home without the concerns and expense of travel."
"After this course I feel more myself, more open to others with a richer experience of connection."
"I'm more willing to follow inspiration without worrying about the outcome."
"A rich community of friends was created in this group. One of the best benefits of all."
Returning Teacher Development mentees receive a $300 discount off the tuition price. To apply contact Cherie at cherie@cherieray.com or call 832.545.8488 to address any questions you have. I am very excited to support you in your journey of full creative expression!   Tuition: $2995