2 Day Intuitive Painting Workshop: No Laboring this Labor Day!
September 5

-

September 6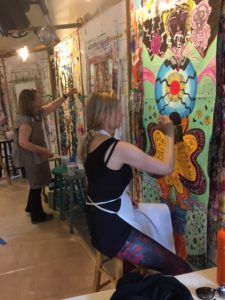 September 5th & 6th, Saturday and Sunday, 9am-4pm CDT
2 Day  Intuitive Painting Workshop: No Laboring this Labor Day! It feels so good to experience freedom, permission, and to create.
We're staying home! What better time to explore your Creativity? Creating is an excellent way to find your center in the uncertainty.
You will learn and experience how to listen to inspiration, remove limiting blocks and connect to your limitless, natural, creative expression. Nothing feels better.
When you understand the nature of creativity and its principles, you begin to relax and trust. You will learn these principles during this workshop.
This workshop is designed for you to cultivate a deep, robust relationship between you and your innate creative process. You will be supported in seeing what supports you and what separates you from this free-flowing process and living authentically. You will be surprised at what gifts come to you when you allow yourself to live fully expressed. During the workshop you can relax, explore, and trust the wisdom that leads you as you create.
Have you explored in a critique-free studio? It will give you a renewed relationship with pure potential and possibility. This new experience of Freedom is your traveling partner in life. You will be well equipped to trust your creative potential.
No artistic training needed. Are you a blocked Artist looking to reconnect? This is the place for you.
No experience necessary, truly! No comments or critiques are permitted.
We come to you via Zoom. Upon registration you will receive a Zoom link to access the workshop and a very brief supply list. Prior to the workshop we can easily schedule a check in call to get you comfortable with Zoom.
"Thank you, Cherie, for making it possible to attend your workshops virtually. I use my phone! I love the experience of painting with those in the studio and really feel part of the group. I'm amazed what a rich experience it is. But I do miss the snacks!". F.B.
This is your call to create without pressure to produce and with an amazing community. Cherie Ray has studied, facilitated, and trained facilitators with Michele Cassou for almost 20 years. Cherie teaches and supports the pure integrity of Michele's work.
When: Saturday & Sunday, September 5th & 6th
Time:  9am-4pm CDT
Cost:    $275
Refunds are available 10 days prior to the workshop minus a $50 administration fee. Cancellations with at least 24 hours notice may use tuition towards other True You offerings.
Registration deadline: Workshop registration closes on Friday, September 4th
Facilitator:  Cherie Ray, MLA, Coach.Consultant